Moshun Enterprise is a professional manufacturer owned by Jack Chang, the company president and CEO. The factory is located in Taiwan, in the city of Taichung.
The main product is Circular Saw Machines which serves innovative and user friendly design for woodworking industry, plastic industry, and home DIY user.
Our commitment is to meet our Customers' requirements with the highest quality equipment available. As a design oriented manufacturer we take pride in our ability to provide the technology and options that our customers desire. We are dedicated to manufacturing our own "Made in Taiwan" products and we have seven innovative designs which obtained patents in Taiwan, Germany, USA, and China.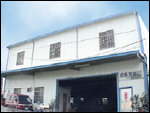 In 1999, Moshun launched out into the market with the first product, Foldable Automatic Panel Saw Machine. Design features include; speed fine tune device, automatic cutting for varies materials, saw blade automatic raise-up, saw blade safety cover and internal dust collecting device.
In the same year, we presented another product, Foldable Circular Table Saw machine. Special features include; Foldable working table, Light weight for easily transport, Slidable Table, and internal dust collecting device.
Moshun markets its products globally. We are glad to cooperate with agents and distributor all over the world.